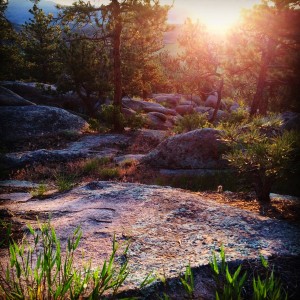 I am not one for affirmations, per se. I feel that statements made by the self, to the self, need to have a resonance of truth. If an affirmation has any aura of dissonance to it, the body, and therefore the self, will reject it on some level.
So when the phrase above came to me; "I create my life happily", I wondered what it meant, and whether my body experiences this as true. Today is a bright sunny summer day here in Colorado, and it feels easy to be happy today. Today is also Monday, and that feels like Possibility to me. So when I say this phrase to myself, and check in with my body to see how it feels, my response is "why not" ?
Why not create? I find that I am most myself when I am creating. Whether it is a song, a poem, a collage, or a new approach as a therapist; my whole being delights in the act of bringing something new into the world. In moments of creativity, my conscious judgmental mind more easily slips away, and I move joyfully into the present moment.
Of course, my inner "Taskmaster" sometimes rejects the notion of the "frivolous" act of creativity: it dislikes being spontaneous and free. So to quell its objections, I sometimes need to "organize" my creativity by setting up parameters, and making it part of my "schedule". I was recently reminded in a workshop with Dr. Clarissa Pinkola Estes that a  "daily practice" is essential to live a soul life; a creative life. I've known this for a long time, but of course I still need to remember it. The Taskmaster wants to know time, place, and purpose.
"I create my life happily". The "happy" part comes naturally when one creates, doesn't it? It's when I feel most alive and free. The most happy. But what about the "my life" part?
How does one conceive of "my life"? The width and breadth of it are hard to take in. My life feels like a big ocean; me on a little boat sailing across it. Perhaps I can only know this ocean in the location I inhabit now. Perhaps I can only truly sense this boat, right now, in this place, in a beautiful blue expanse. The whole scope of the ocean is a concept of my life, and I can gaze upon it only from one lens, at any given moment.
So here I am. In this place. On this day. With the view.
From here, I say "Yes".  I create my life happily.